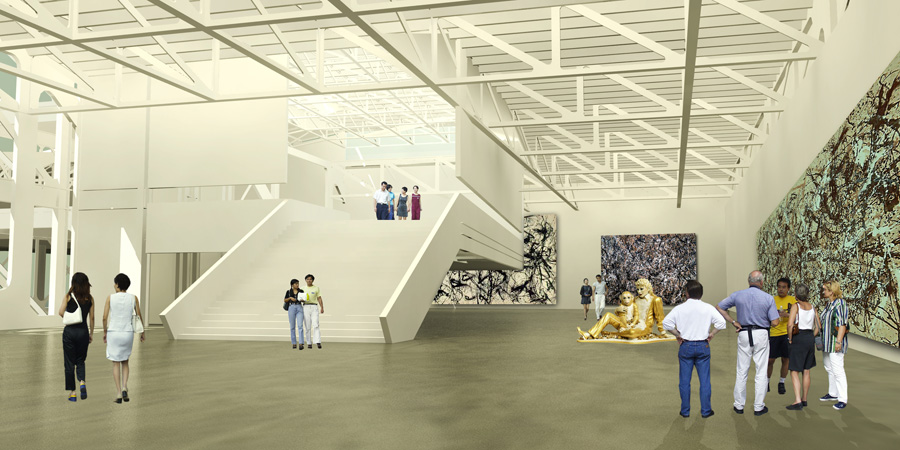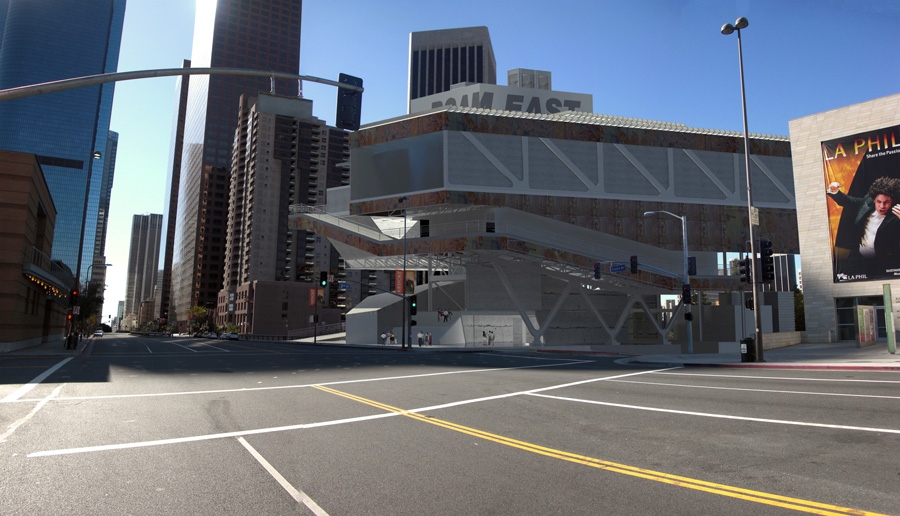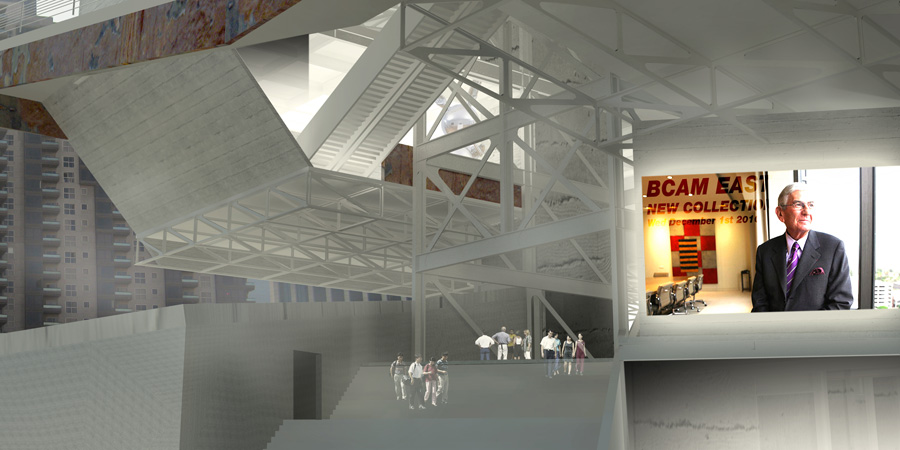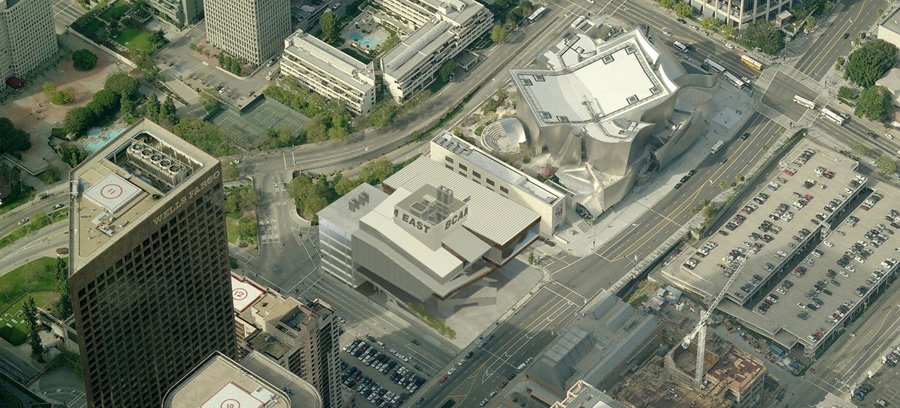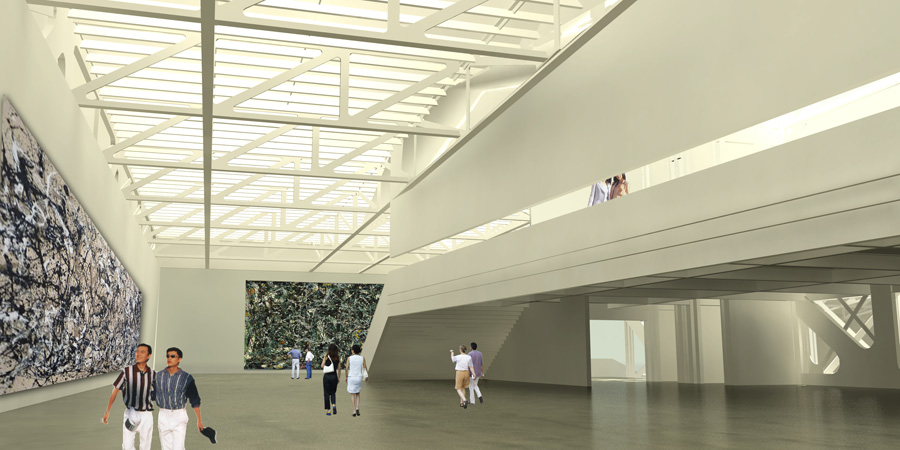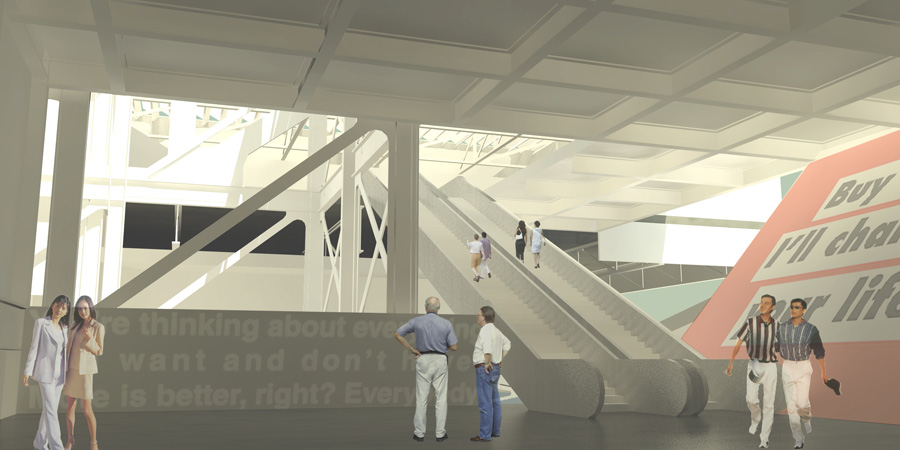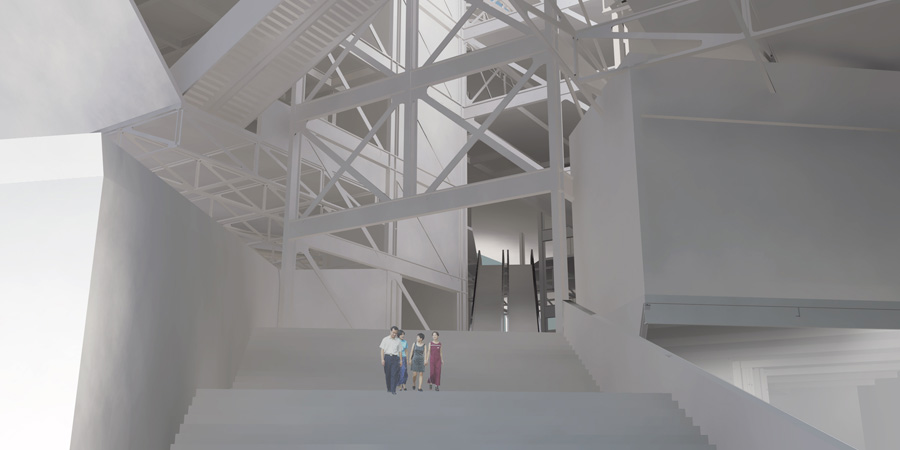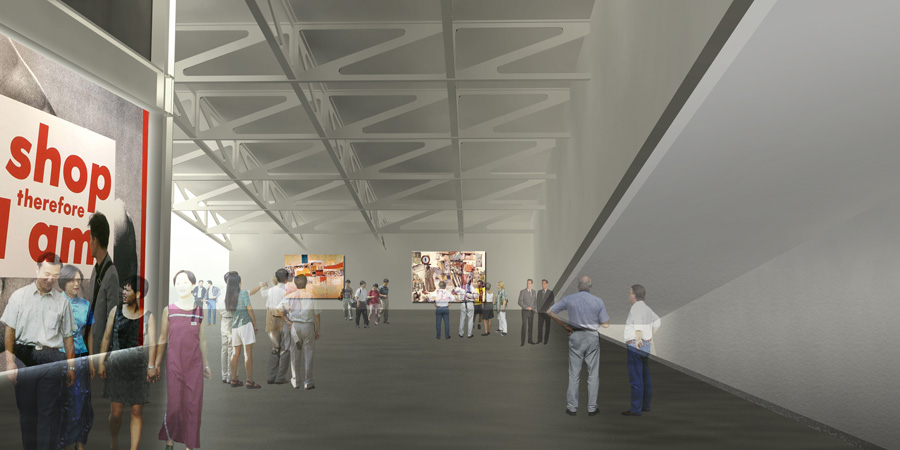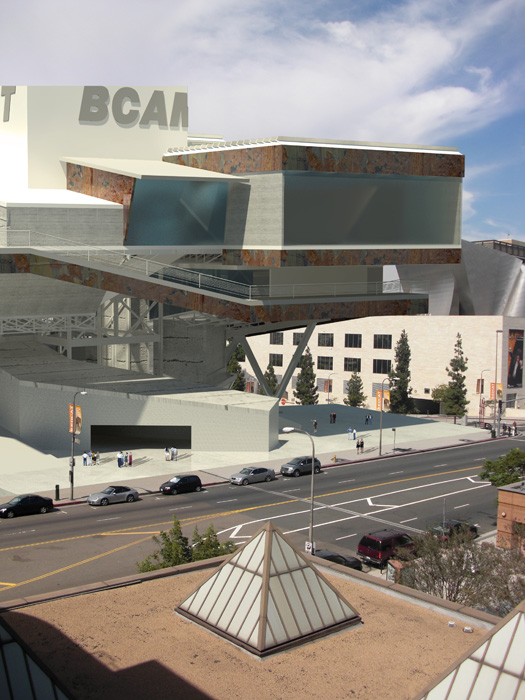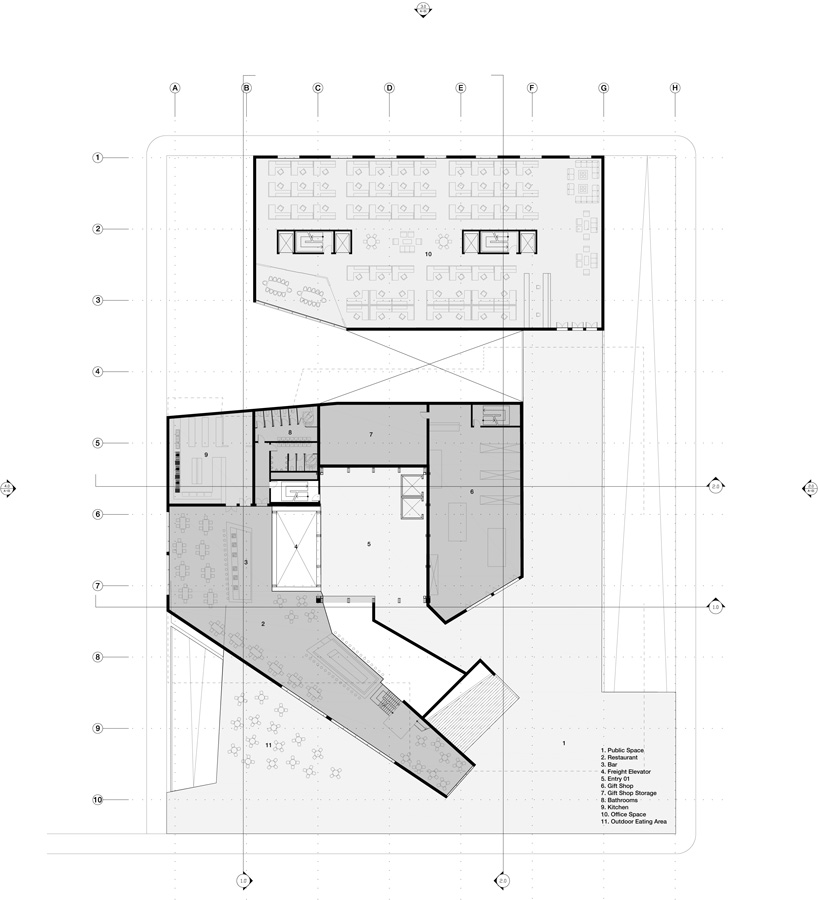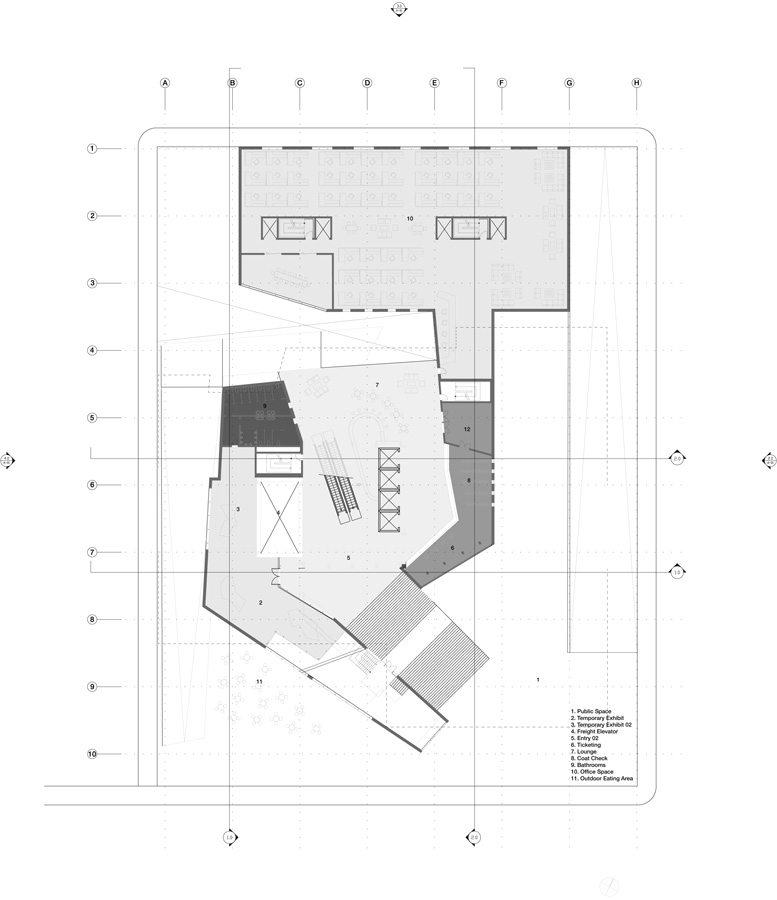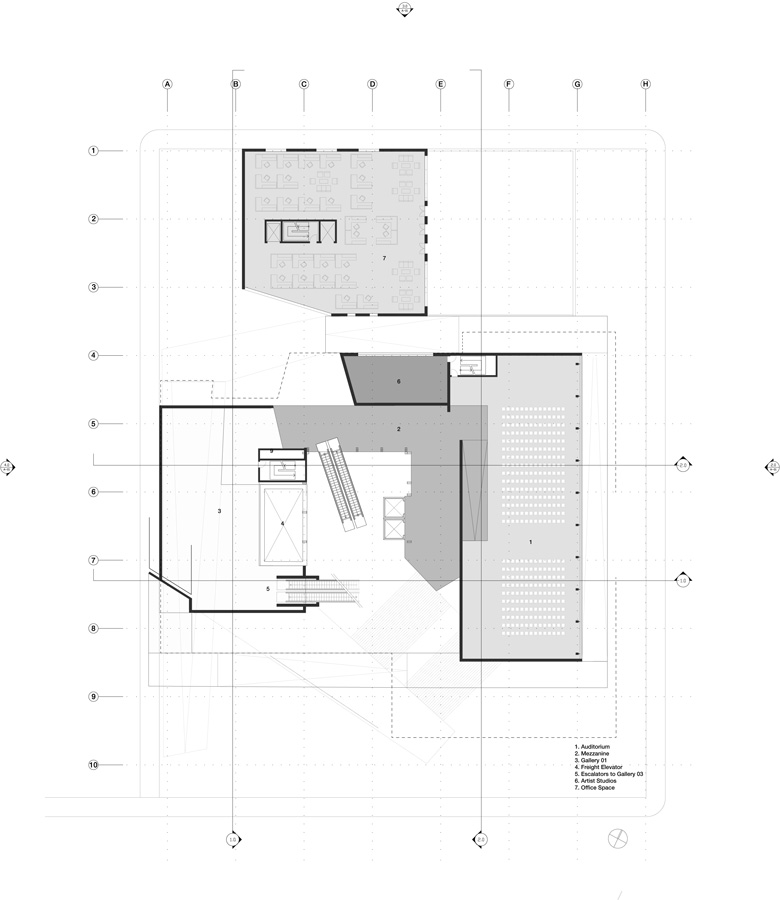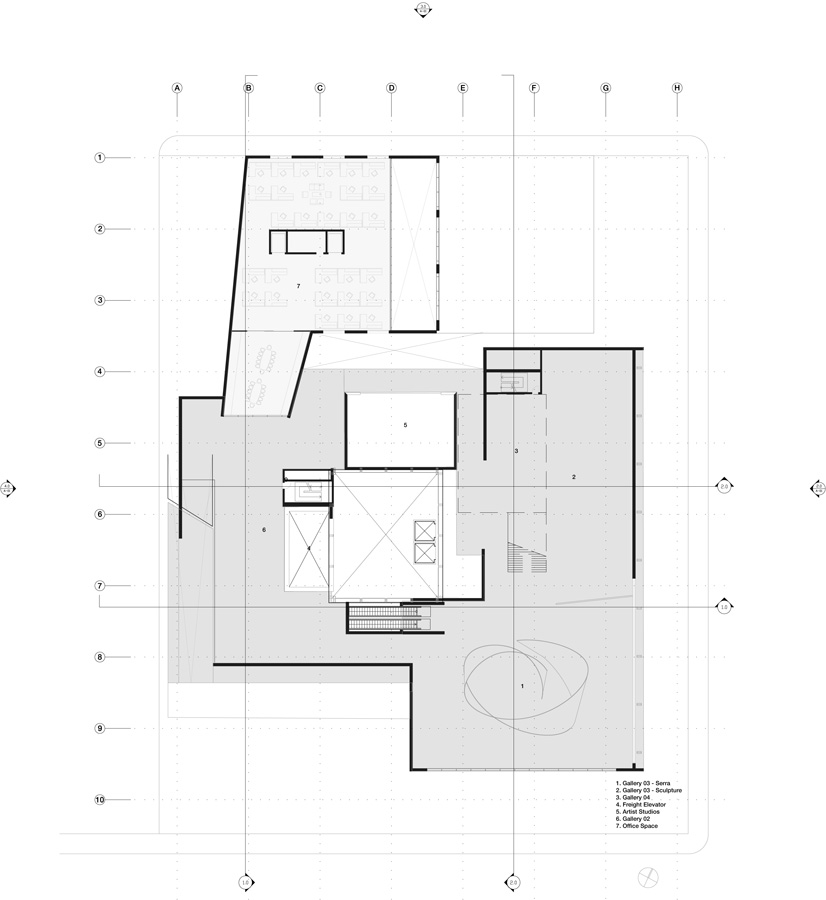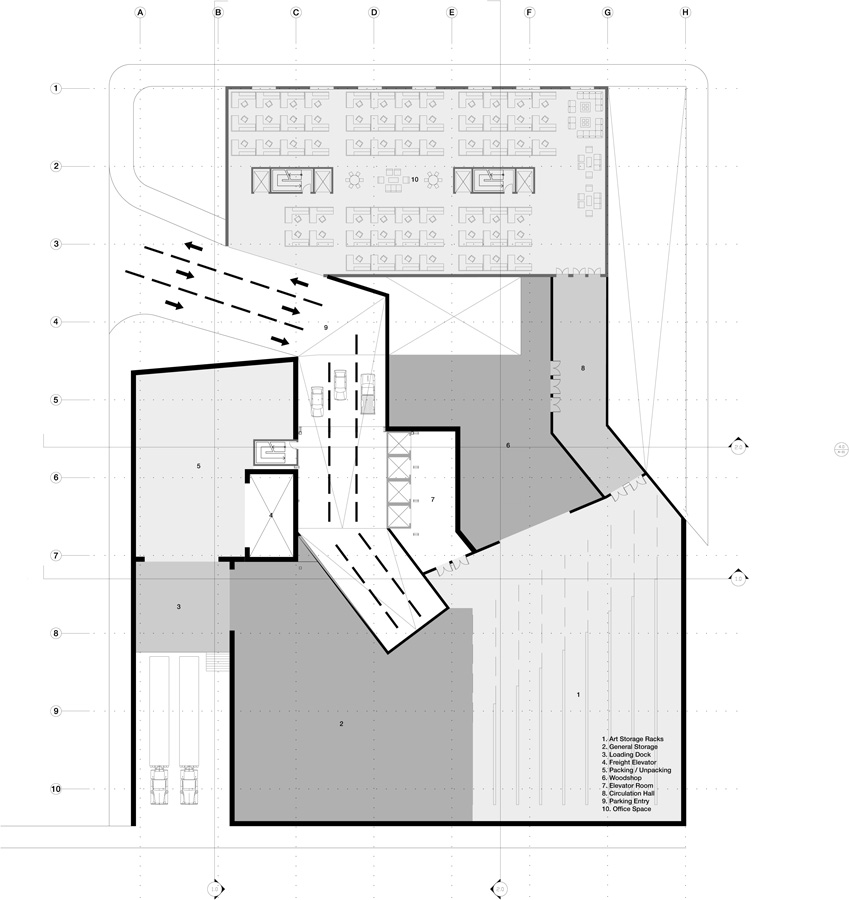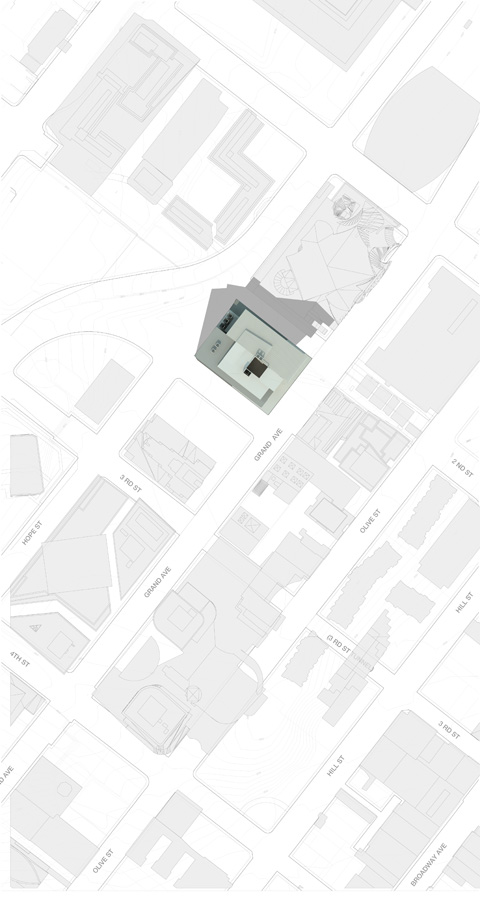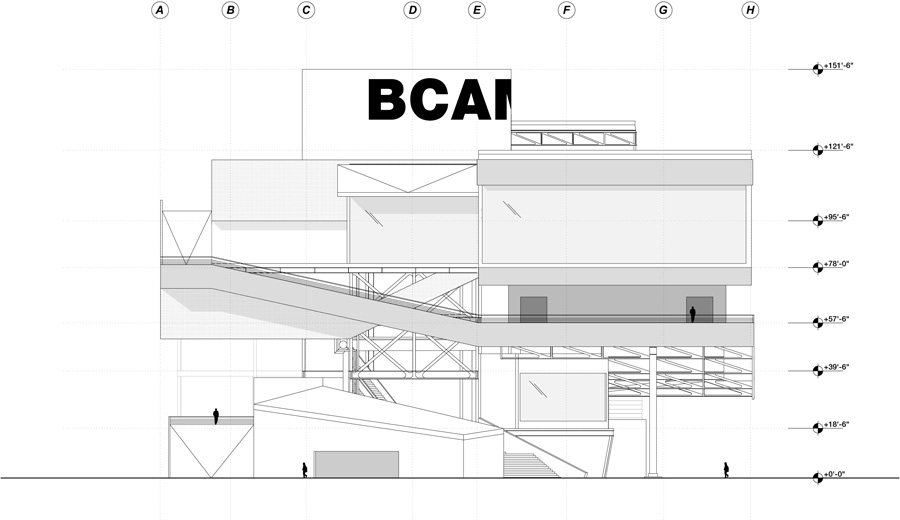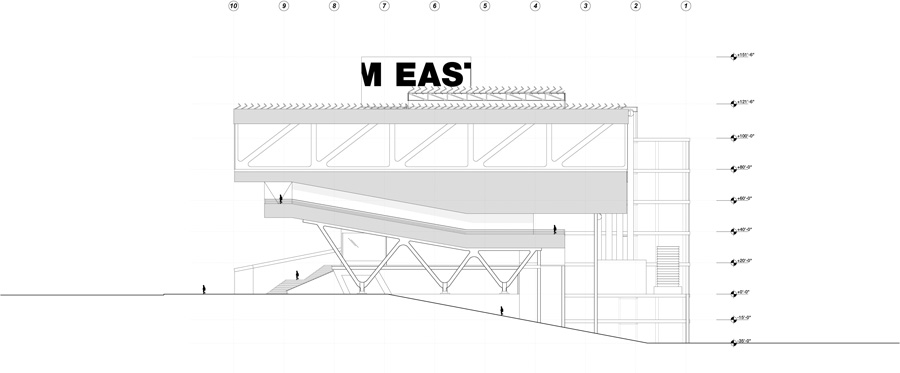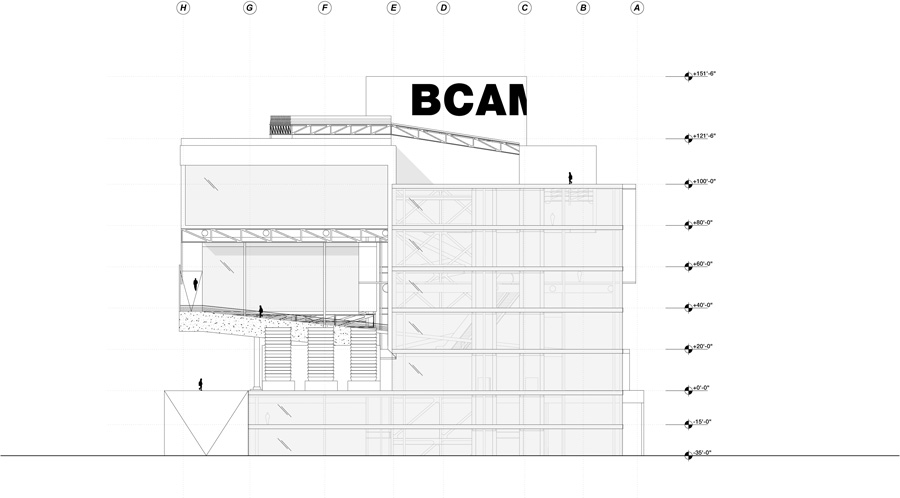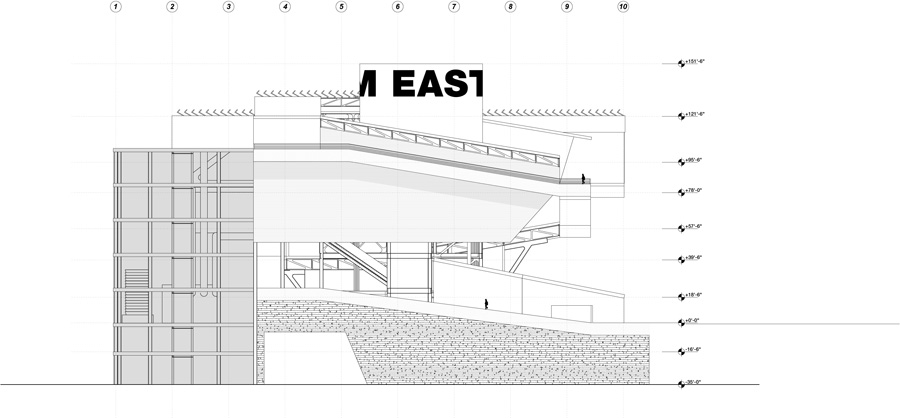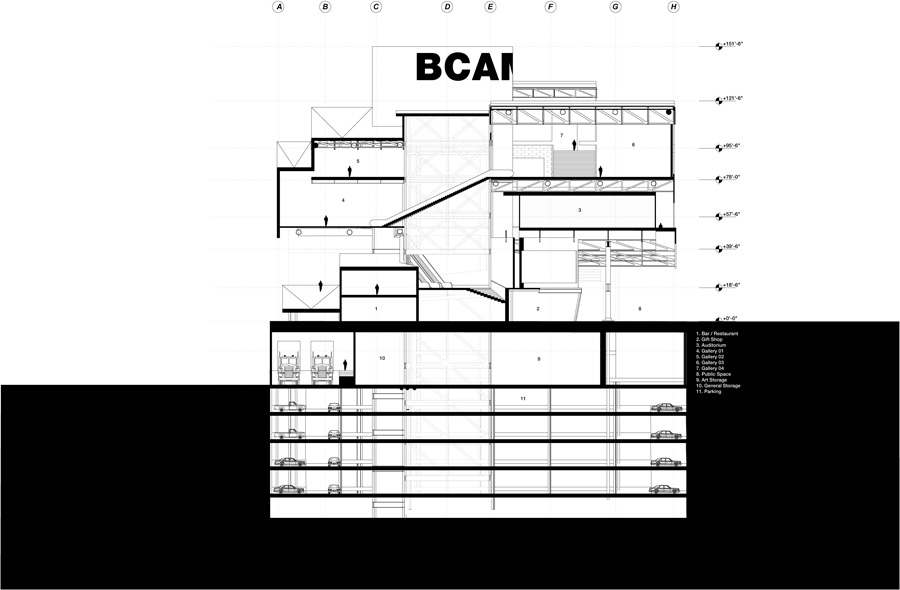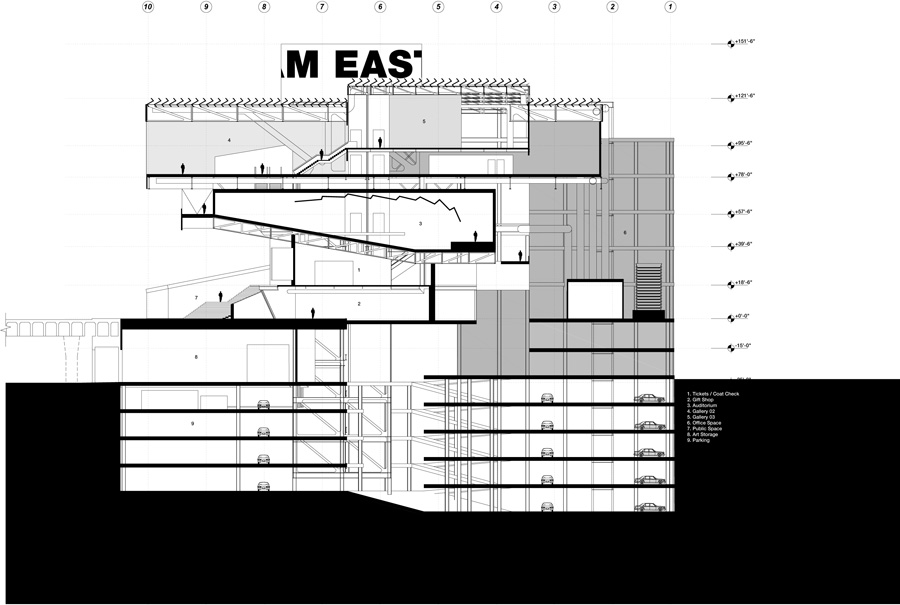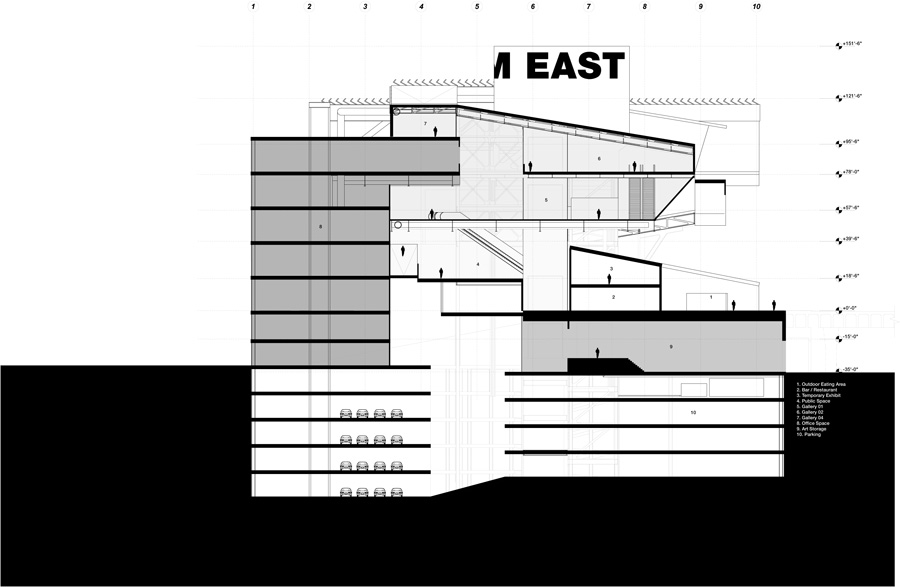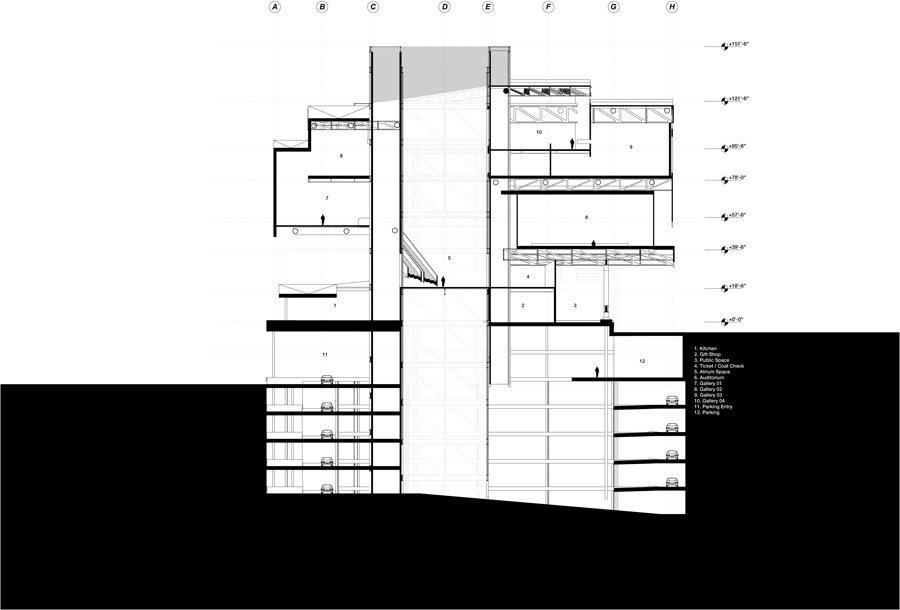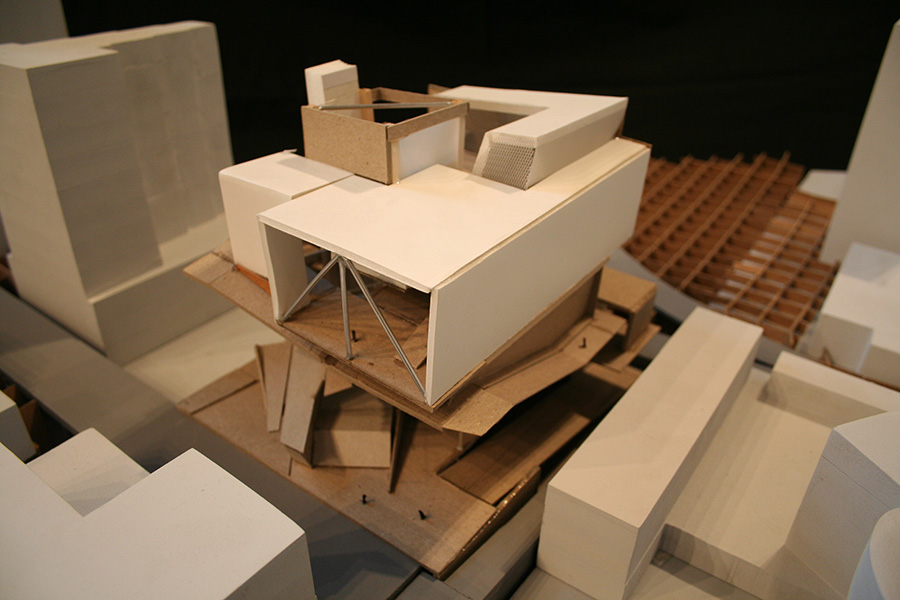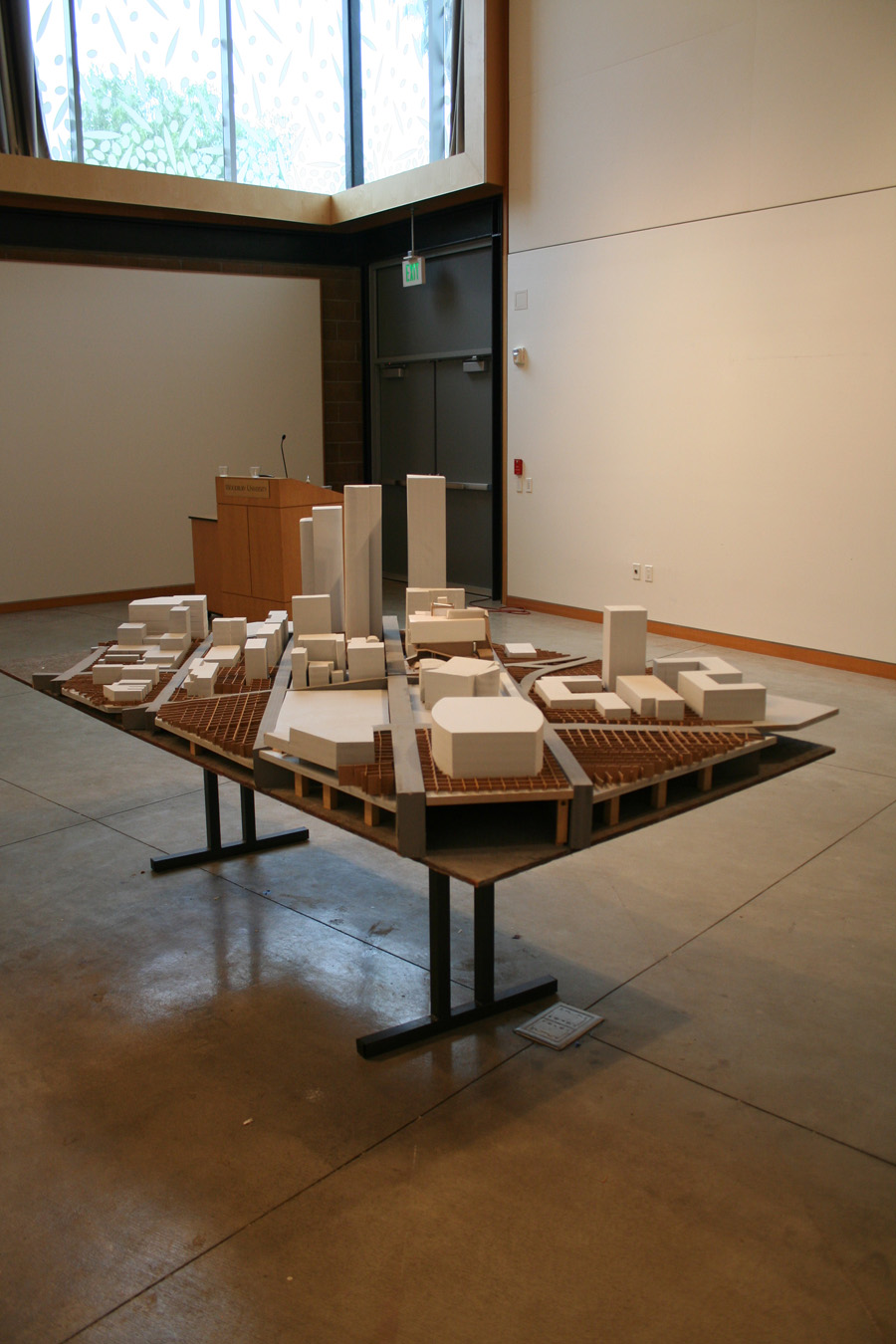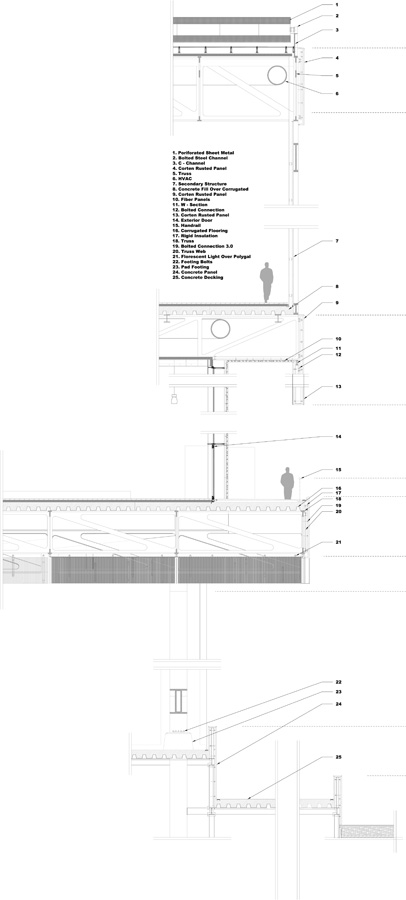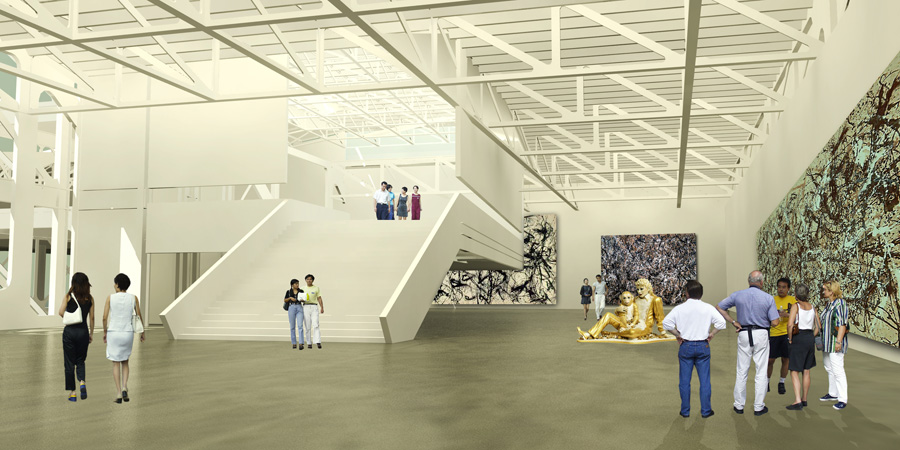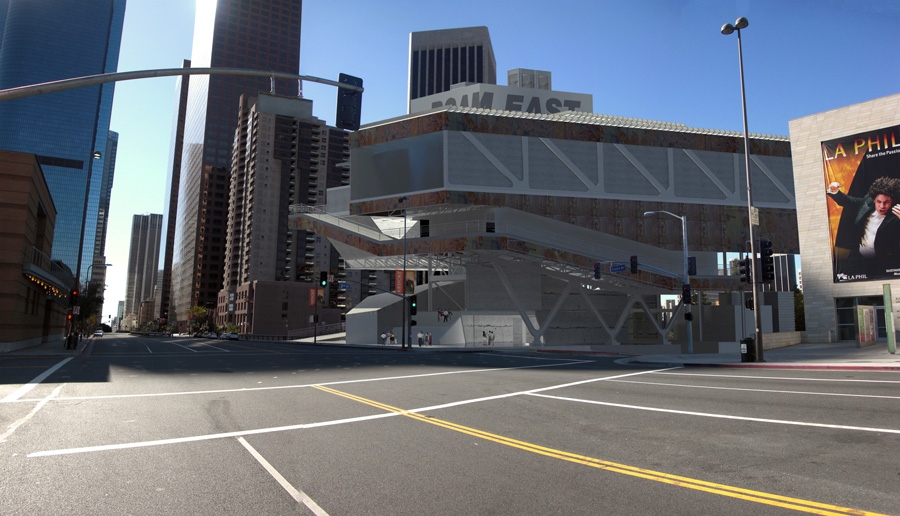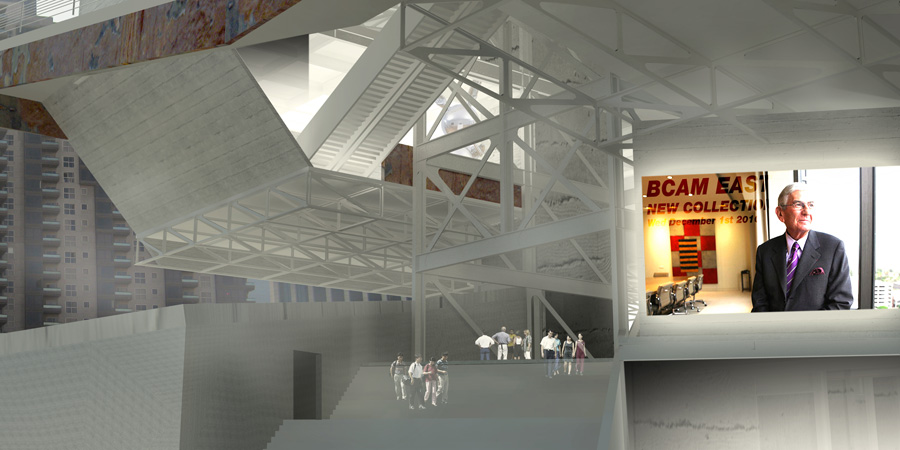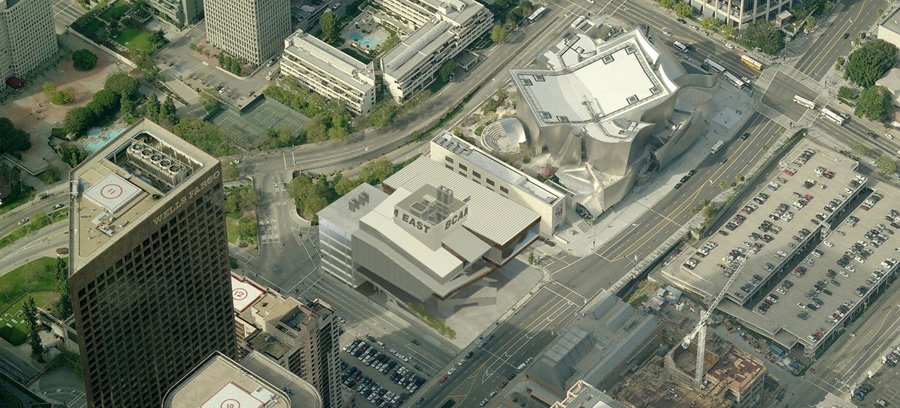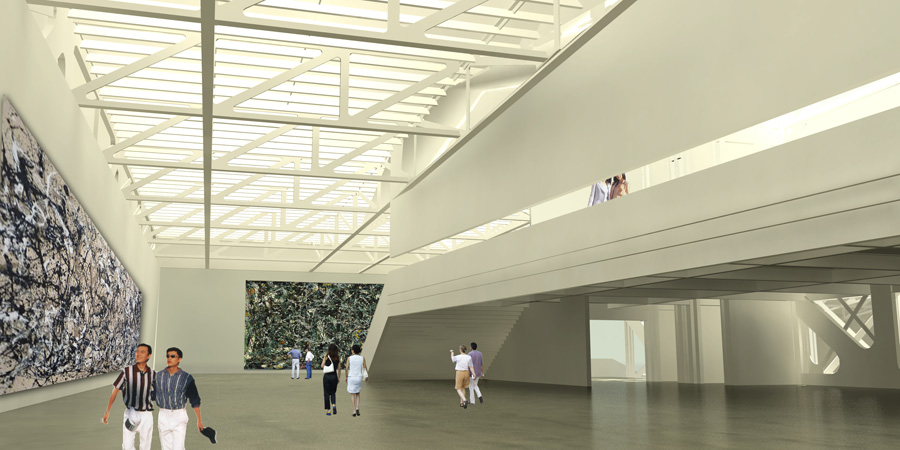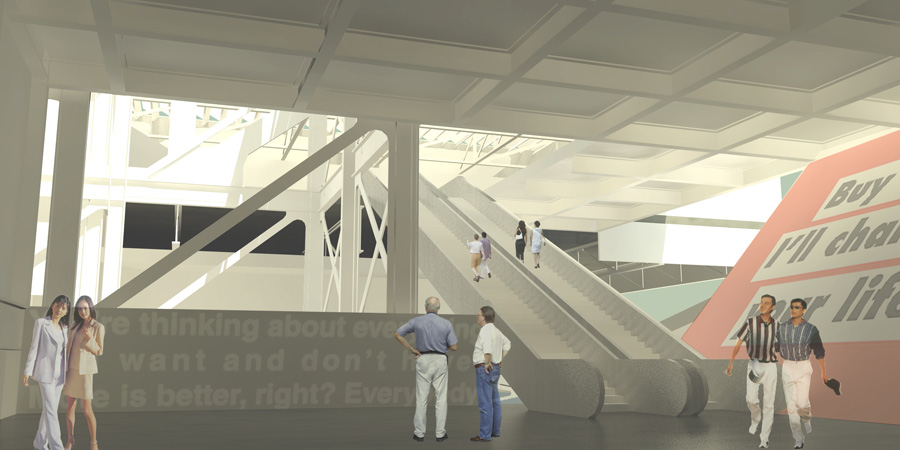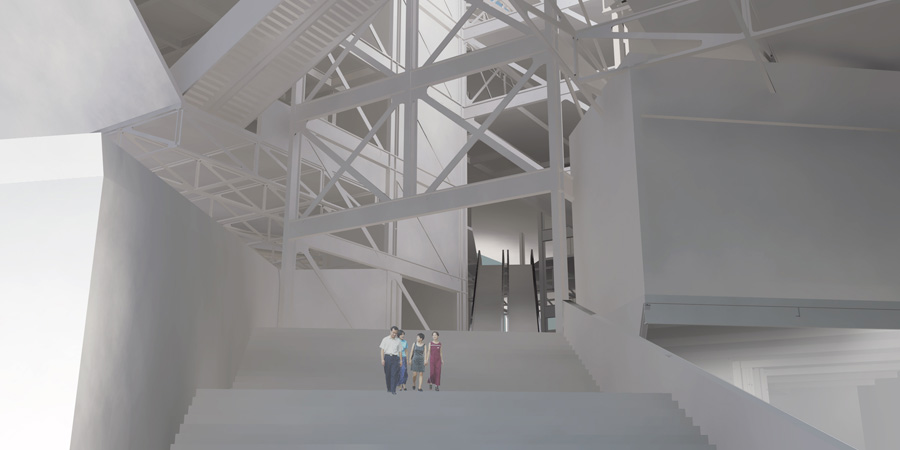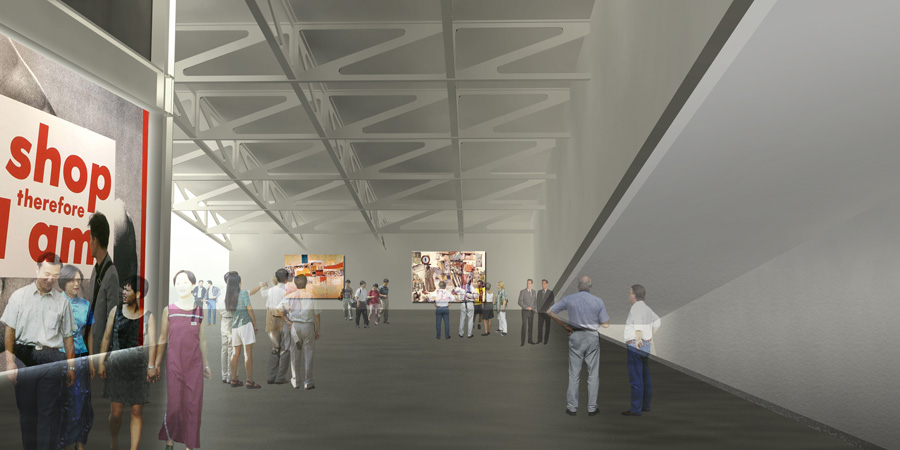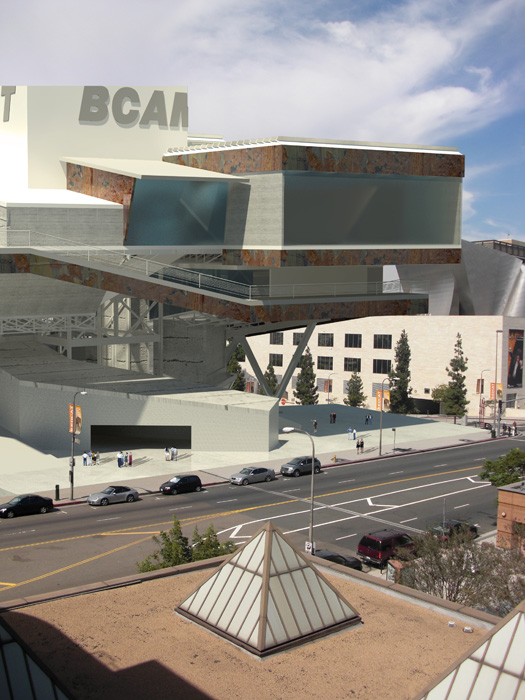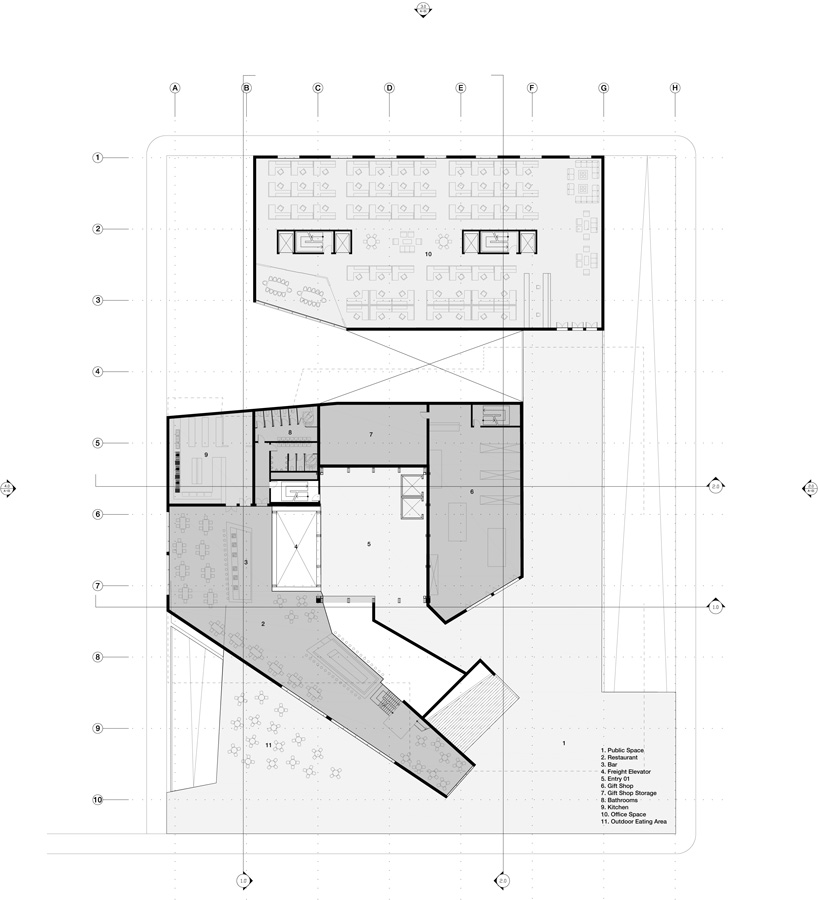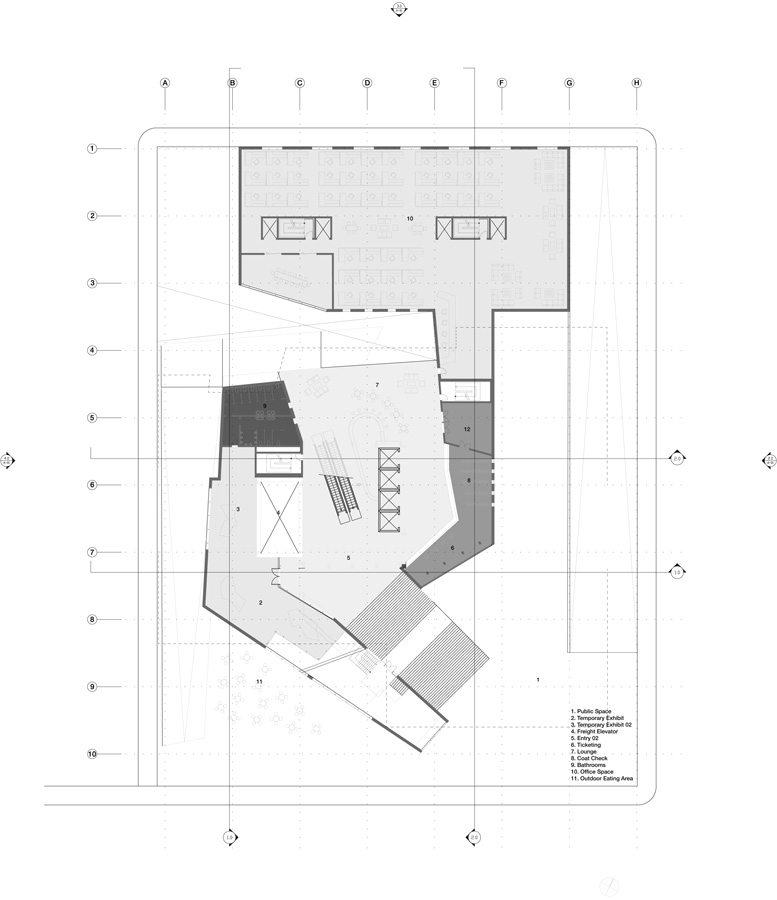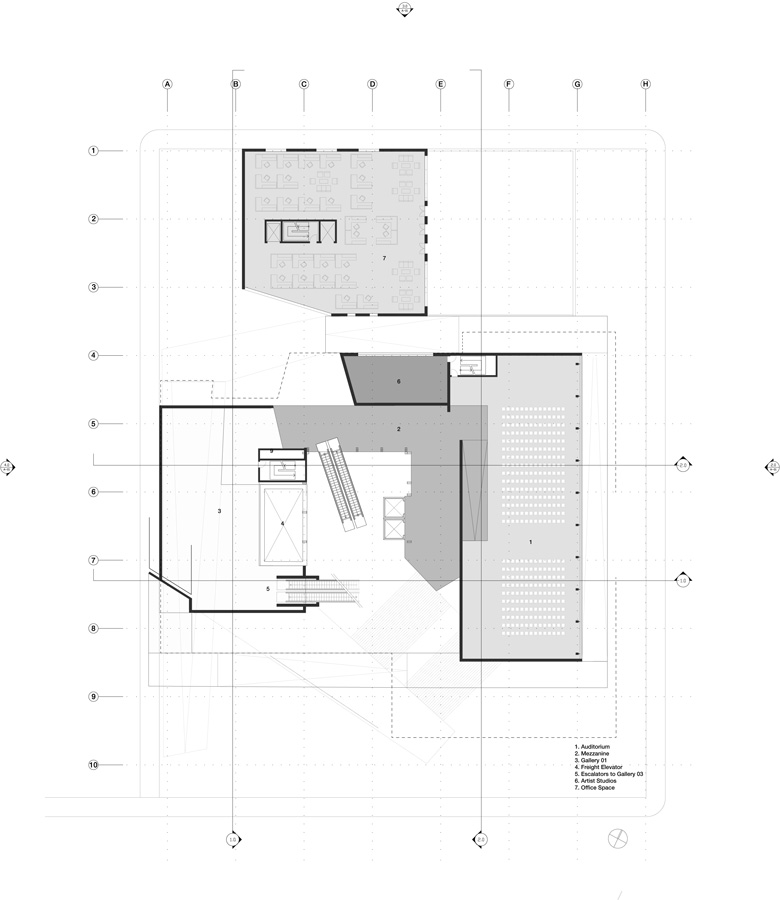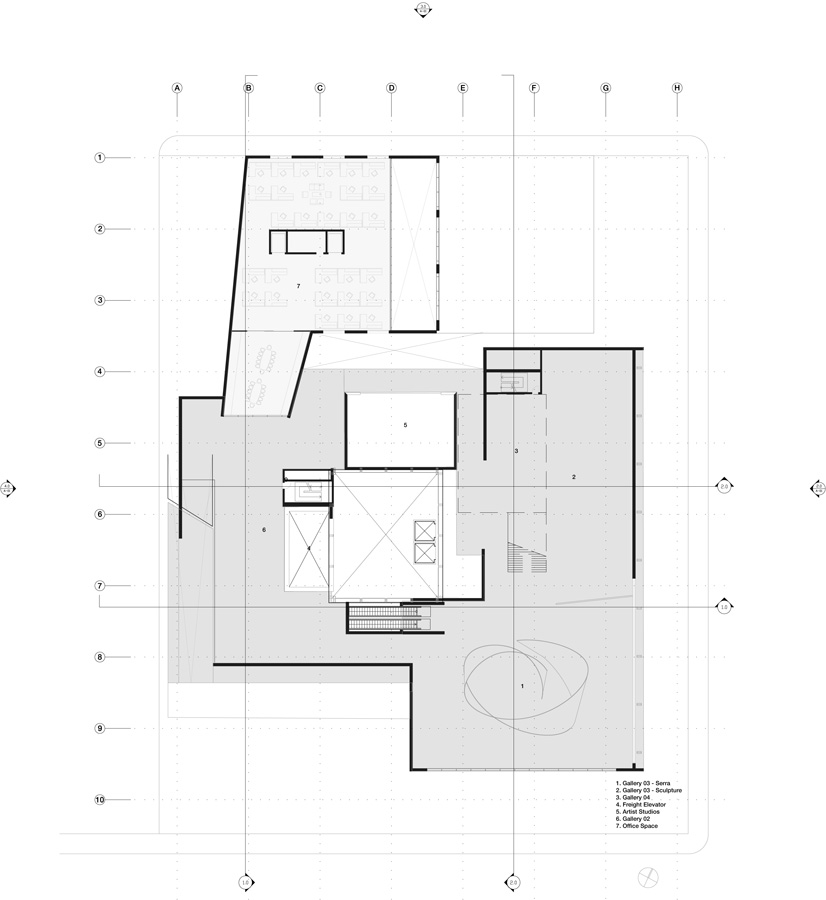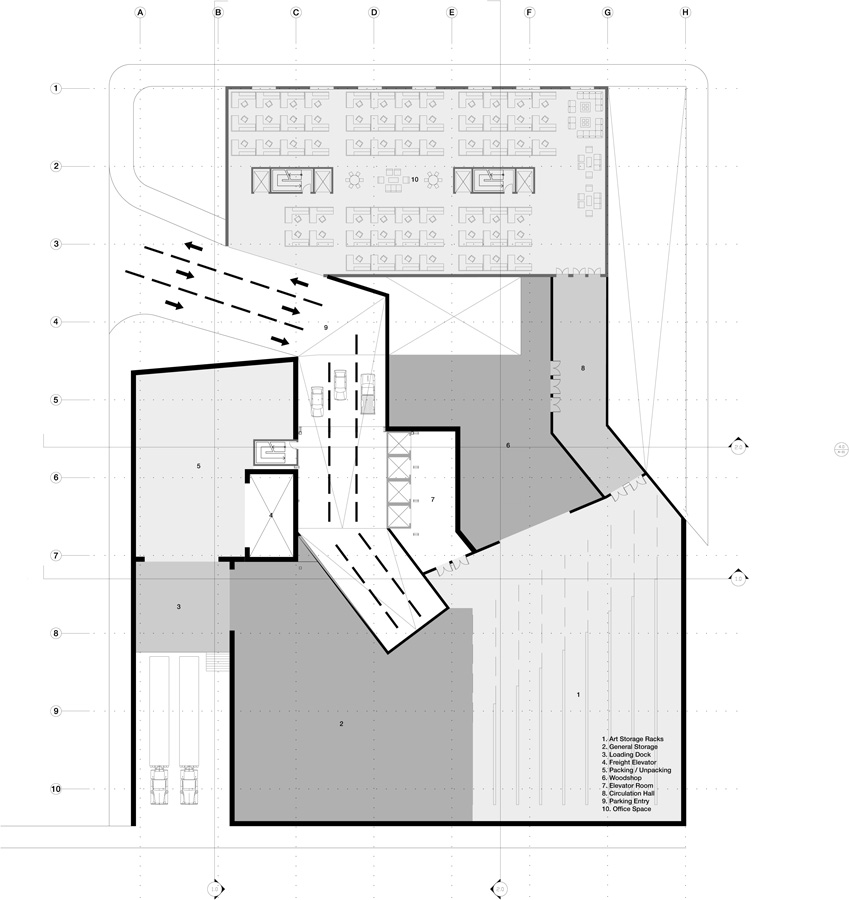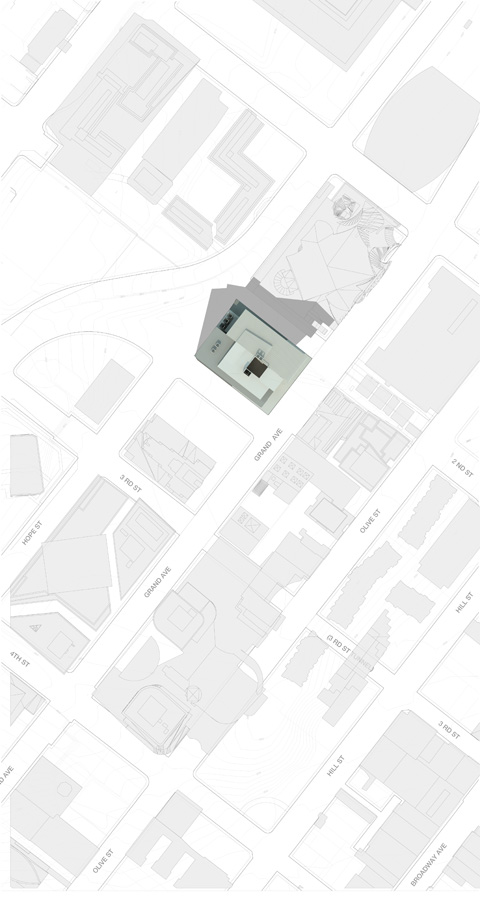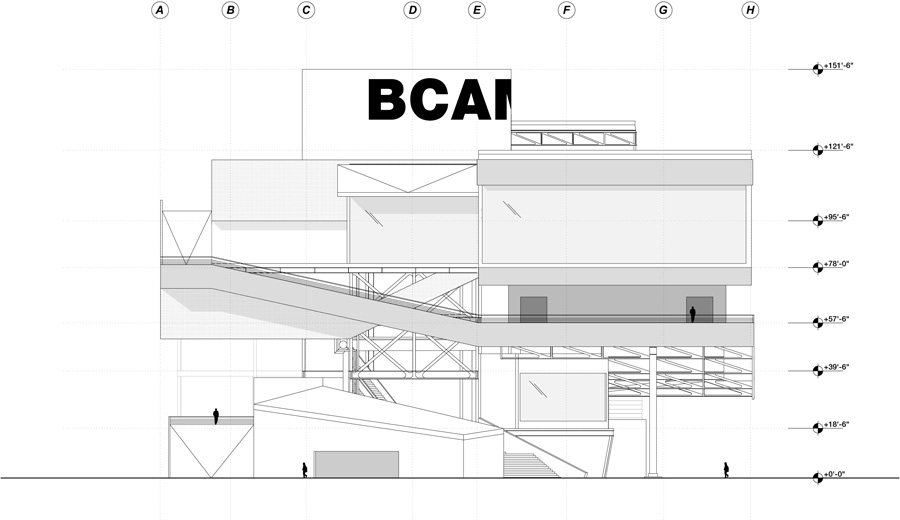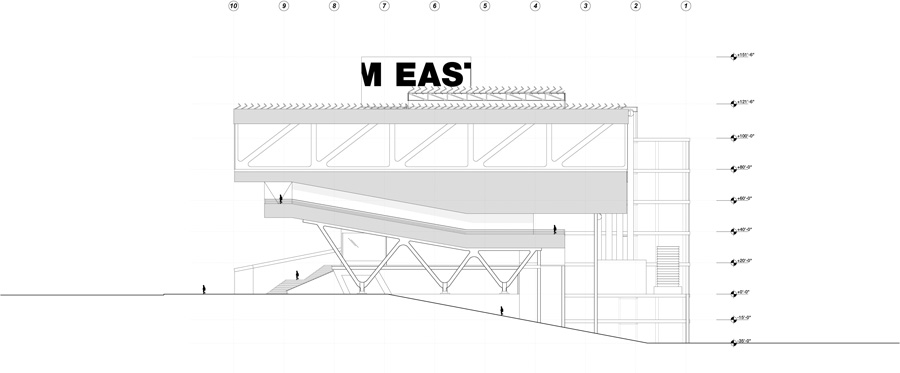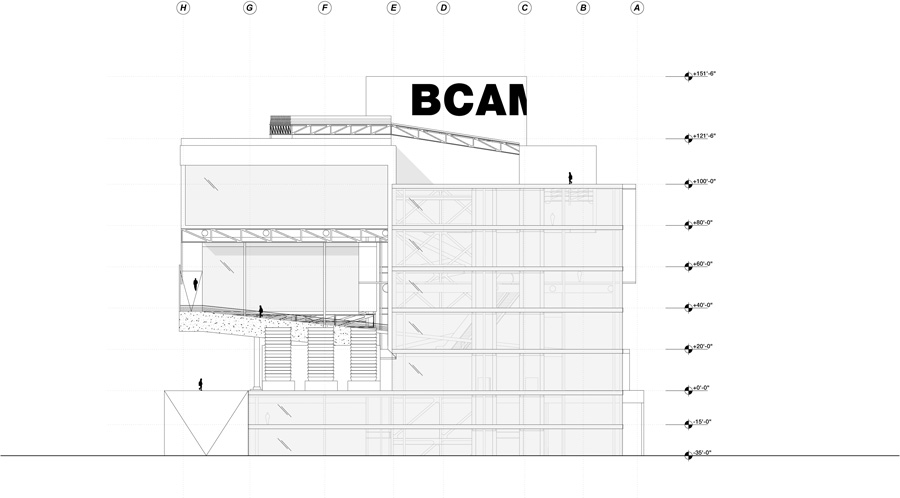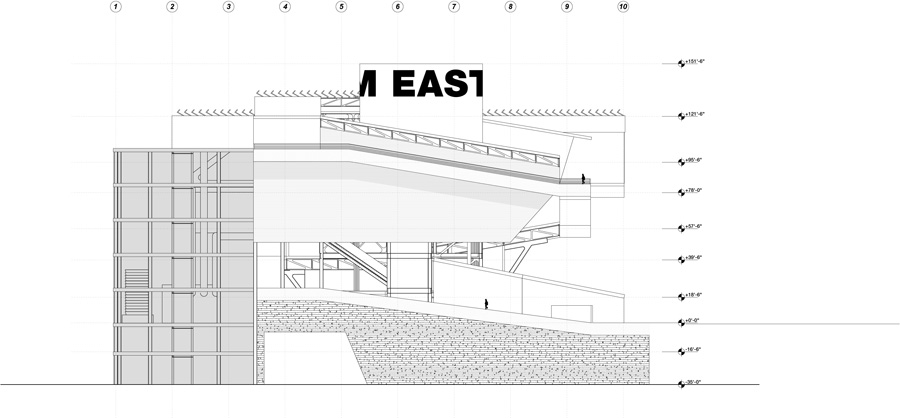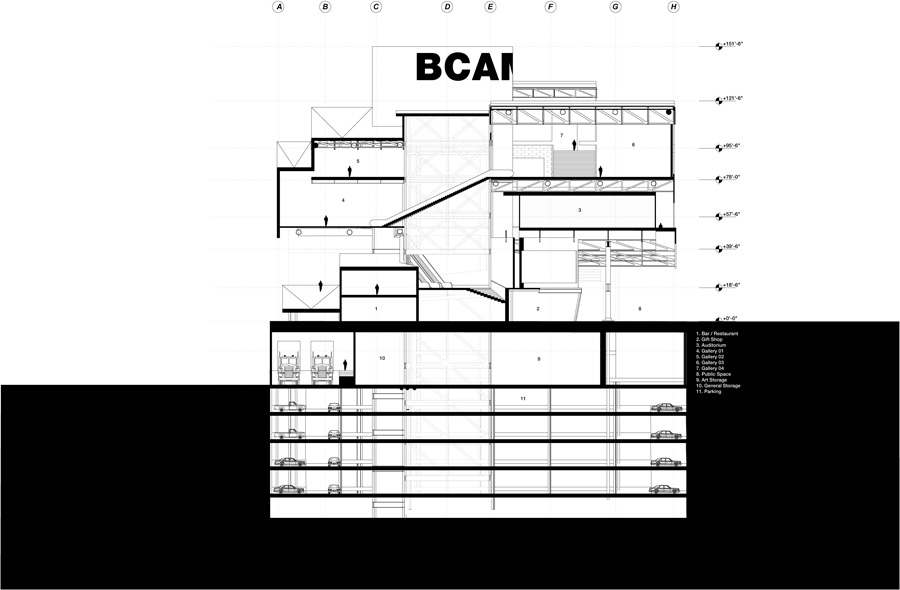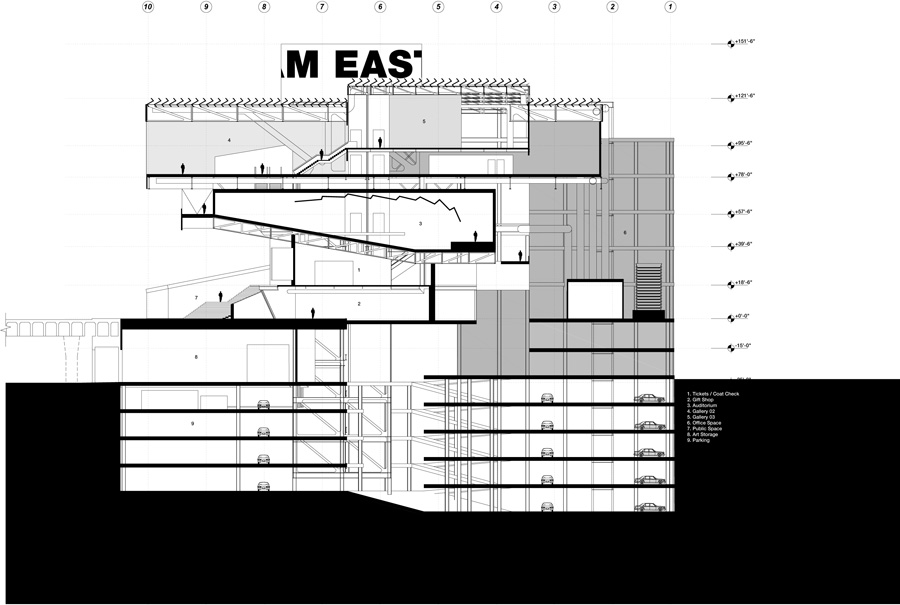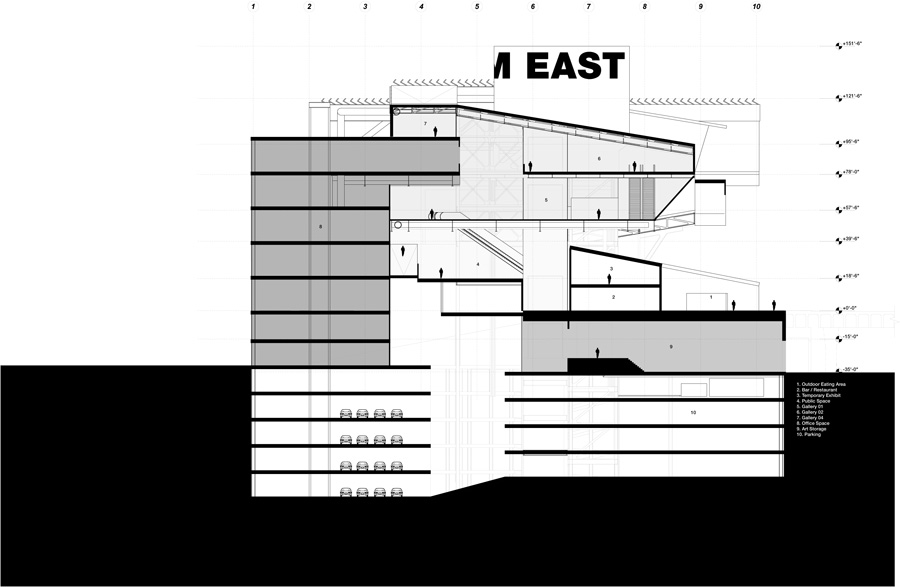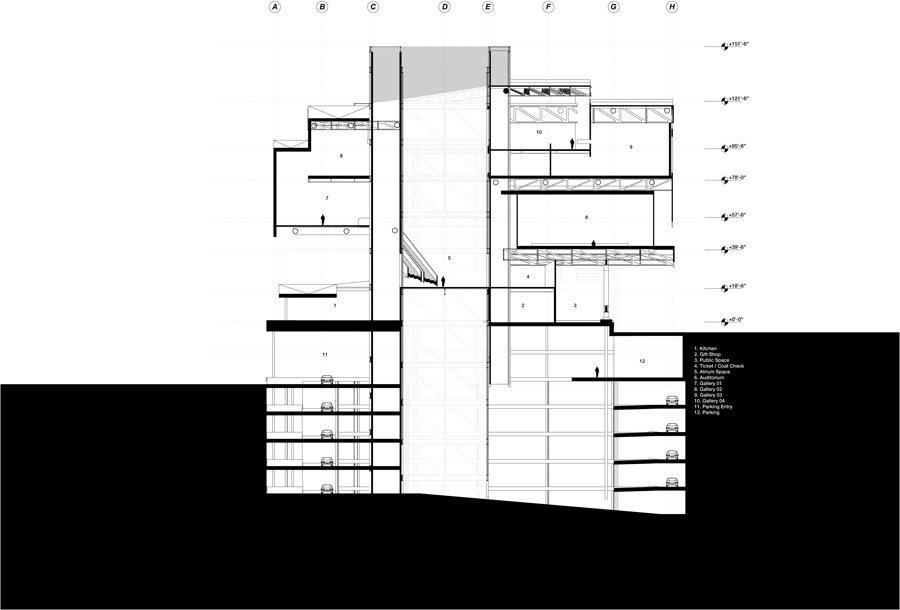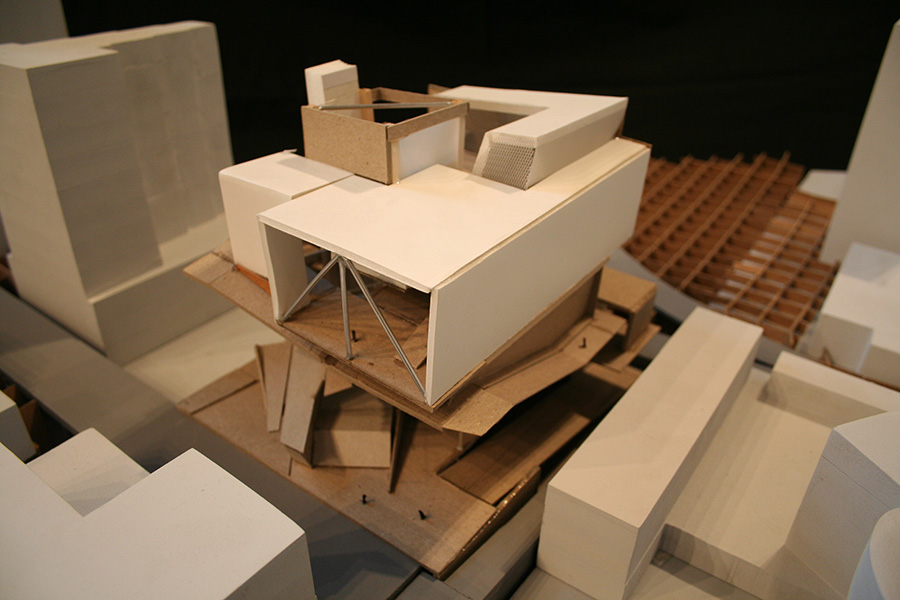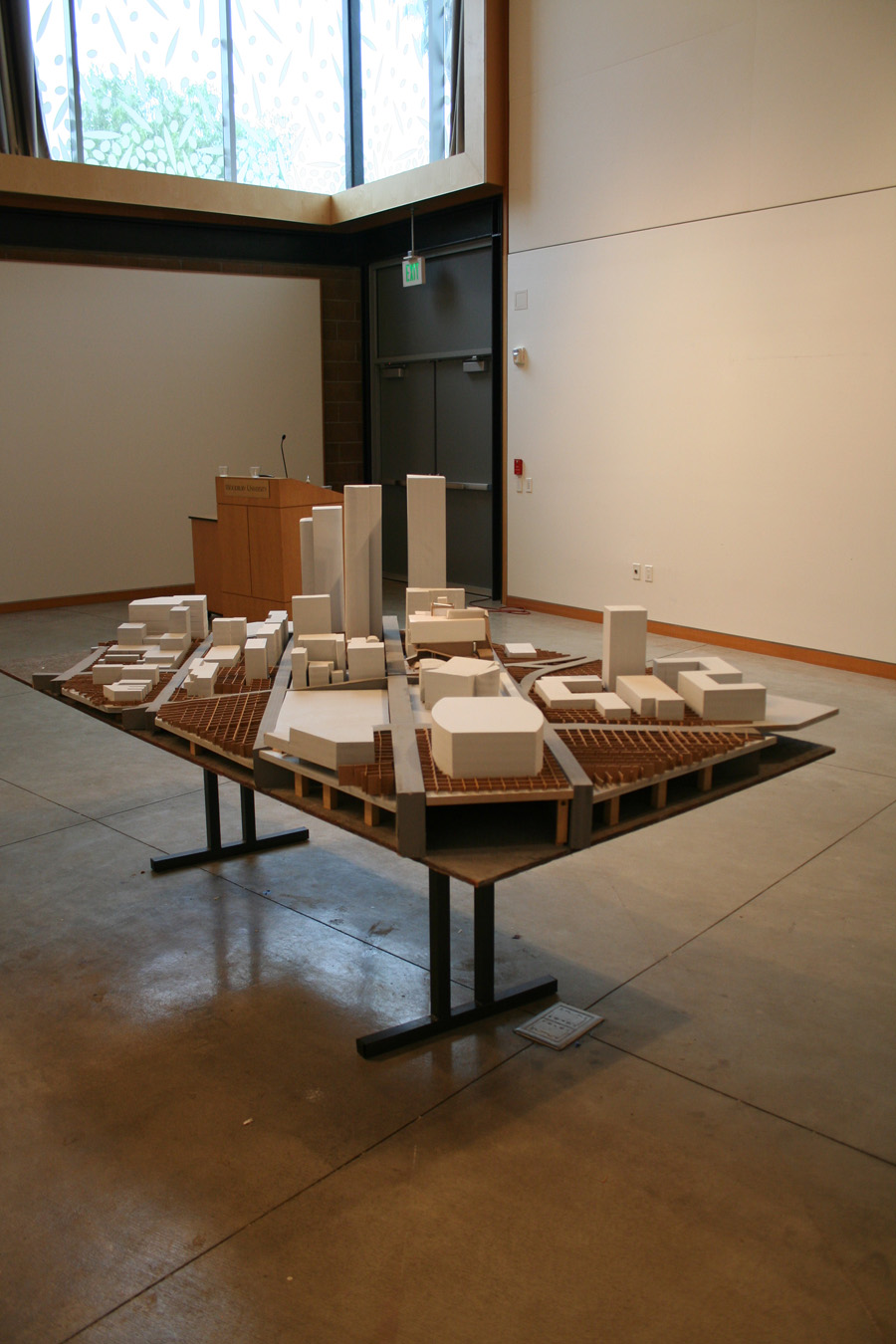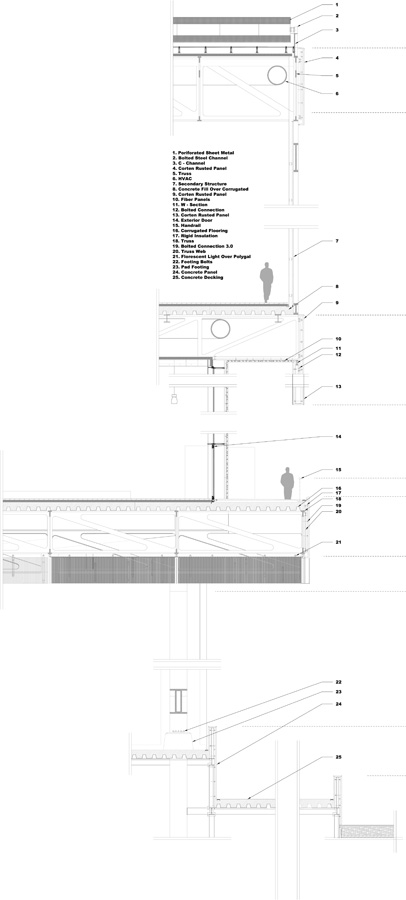 BCAM East
Building Type: Museum
Location: Downtown Los Angeles, CA
Class: Architecture 5A; Woodbury University
Professor: John Southern
Date: Fall 2010

Problem:
Hypothetical Situation. Eli Broad commissions a new museum in Downtown LA that is 120,000 Square feet next door to Frank Gehry's Disney Concert Hall. How does a designer create a signiture building without being supermodernist or hyper-iconic?

Objective:
Create a sense of place, provide a custom tailored space to house a specific permanent collection and explore the techtonics of structure in order to create a place unique to the user and the client. The museum must be functional and permanent. Reconnect the area with public space.

Process:
Work collaboratively with international partners. Investigate site in Downtown, question typical structural systems, investigate phenomenological effects, research concept, diagram site according to concept, generate program, order spatial sequence of program to concept, generate form. Resolve.

Concept:
A double-helix of circulation oriented around an atrium core. Interior circulation wrapping in one direction and the exterior public sculpture garden wrapping in the other direction.

Program Requirements:
01. Gallery Space: 50,000 S.F.
02. Art Storage and Restoration: 15,000 S.F.
03. Wood Shop: 1,500 S.F.
04. Offices/Research: 10,000 S.F.
05. Reception/Special Events Area: 8,000 S.F.
06. Café 2,000 S.F.
07. Staff Library: 2,000 S.F.
08. General Storage: 1,000 S.F.
09. Shop: 1,500 S.F.
10. Coat Check: 300 S.F.
11. 200 Seat Auditorium
Total Projected S.F. : 110,000-120,000 S.F.

Design Concept: BCAM EAST
The proposed Broad Museum of Contemporary Art in Downtown LA is sited next to the iconic Disney Concert Hall, and adjacent to the Museum of Contemporary Art at the corner of Second Street and Grand Avenue. The site is currently underutilized as a parking lot, and in an effort to create a vibrant city core, Eli Broad has commissioned a museum to house his world-renowned collection of contemporary art. The urban context of Los Angeles is centered around a car culture, which this project hopes to interrogate through a careful consideration of the relationship to the street.

Although public space in Los Angeles is rare, this project attempts to create a more connected public plaza and relies on a combination of public and private circulation which undulates in and around the building envelope. Through visual connections and direct intersections of the public and private circulation, the programmatic and spatial relationships are explored as a phenomenological exploration and questioning of the standard typology of a museum. The topographic and urban characteristics of the Bunker Hill site - created through a confl uence of slope, two street tunnels and the vertical juxtaposition of upper and lower Grand Avenue - the design attempts to carve out spaces through the building by utilizing a double helix circulatory parti that fluctuates between public and private. On the outside, pedestrians can walk around a linear park which surrounds the museum, while on the inside, a second course of ramps takes visitors through the different galleries within the private space of the institution.

The intersection of the public and private circulation are further exploited as a formal driver, and moments where the public ramp intersect different museum volumes leads to a series of diagonally carved out spaces throughout both the interior and the exterior, infl uencing the museum's form in a highly dynamic manner. The focus of the museum's programmatic parti centers around a vertical circulation tower, and the two circulation ramps. The vertical core is accessible via a grand stair that visually invites pedestrians off the street and into the building. The plaza is conceived as a spatial extension of Upper Grand Avenue into the building, creating a dynamic urban theater space that ties the urban tissue of Los Angeles into the Museum. Although the site is presently disconnected from the surrounding urban context, this project attempts to reintegrate and dissolve the boundaries created by the original demolition of Bunker Hill, while exploring complex spatial relationships through confl icting ideas of circulation and through programmatic complexity.